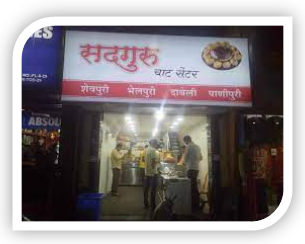 DOB:-28th Sept 1973
Mobile no:-9011221923
Sadguru Chaat Bhandar
Near Times of India office, College road, Nashik
Somnath Punjaram Ippar is an entrepreneurwho started from roadside vendor to a famous snackscounter in famous area of Nashik city (i.e. college road).Hewas born on 28th sept 1973 in Nashik. He belongs to poorfamily of a farmer named Punjaram Ippar his familycondition was so critical that his father can't even affordtwo time meal for complete family. Even then punjaramsupported his both sons for study, but due to some financialconditions, both of his sons left the school in class 8th and7th respectively. After leaving study, elder son startedworking with his father in farming. But somnath startedworking in shops at the age of 18th, He was working as adaily wages labour in VIP Bags Company. He got only 120rupees per week.
---
For More Details:-
Sandip Foundation
Sandip Institute of Technology & Research Centre, Nashik
Department of Management Studies