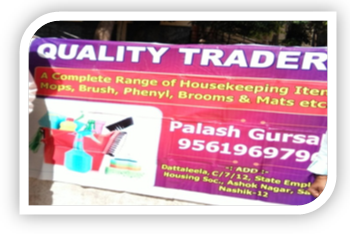 Mr.PalashGursale is in the business of Housekeeping as QUALITY TRADER'S since last 5 years.Despite having no background related to Housekeeping field he is successfully running his Housekeeping business in Nashik City.
His story started from Nashik city. He was born in a middleclass family. His father is employee in PF Office. His mother was a housewife. His parents both doing work hard and wanted their children to educate.Varun was born in 1994. He was the youngest kid in the family.As his parents wanted to educate their children Palash was admitted in school at Bhosla Military School, Nashik.Palash completed his Primary and Secondary schooling in Same School.During the education Palash was going with his father to help his father to doing the Housekeeping work.
---
For More Details:-
Sandip Foundation
Sandip Institute of Technology & Research Centre, Nashik
Department of Management Studies.