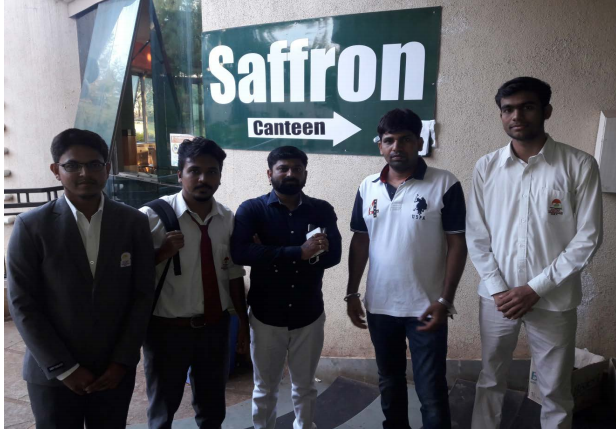 For the case study purpose we visited Mr.Varun Bhimrao Bhamre who is in the business of catering since last 12 years.
Despite having no background related to catering field he is successfully running two major canteens in Nashik city.
His story started from Nampur village in Satana taluka. He was born in a poor farmer's family. His father did farming with some land which he has got from his family. His Case Study Mr. Varun Bhimrao Bhamre mother was a housewife. Being illiterate parents both toiled hard and wanted their children to educate.
Varun was born in 1981. He was the youngest kid in the family. He has an elder sister.As his parents wanted to educate their children Varun was admitted in school at Nampur only.Varun completed his Primary and Secondary schooling in Hire Vidyalaya in Nampur.During the education Varun also had to help his father in farming works. Though Varun did not get much time to study and being a small rural village there was no quality education available still Varun managed to complete his matric with good marks.
He was a bright student. His parents were satisfied with his achievement in education and they also wanted him to study further. Varun also had a wish to study further. Thus he took admission in M.S.G. College at Nampur.There he completed his HSC education. After completing his HSC education he also wanted to study further. But delicate financial conditions did not allow him to do so. So he decided to quit education and search for a job so that he can help his family and their financial needs.Here started the real journey of Varun from being a poor farmer's boy to be today's successful entrepreneur. As a need Varun was searching for a job and an earning source. This search got him to a bakery job. This was 1st job of his life. Varun was working in the bakery as helper. The job did not give Varun a satisfaction. Though the job was helping him to earn for his family but Varuns mind was thinking for some different horizons.
During his bakery job Varun used to go to a canteen for the supply of breads at daily basis. The canteen owner became varuns friend, he used to spend time with that canteen owner, and somehow Varun got few ideas about the catering business. 42 | Page But his financial condition was not allowing him to start his own setup of a bakery or something like that in catering field. Days were going; Varun was stuck with the bakery job.
It was almost an year with the bakery job. One day suddenly he came across an advertisement regarding tender of a college canteen.Varun somehow managed the capital from his savings and took some money from his father and he dared to apply for the tender of the canteen.Fortunately Varun got that tender and he finally signed a contract for running the canteen,This canteen was the college canteen of N.D.M.V.P. Medical College in Nashik.This was the first ever project Varun was working as an owner. With low finance and capital somehow Varun managed to start his business of catering.Nearby 150 students daily visited the canteen.
Varun was serving for both their lunch and dinner food. Also snacks and breakfast items were catered at varuns canteen. This was year 2005 when Varun started running this canteen. Fortunately his attempt was successful. It was a 5 year contract with the institution. During this period Varun got to learn many things about catering business. He got to know about what things he has to improve, on which aspects he has to focus. At this venture the turnover of his business was Rs. 30lakhs. this was making a sufficient profit for Varun. During the same time with a reference Varun got an offer for running a canteen at a manufacturing company in Nashik. So in the year of 2008 varun started catering at company canteen of Megafine Pharma ltd. At Dindori, Nashik.This time Varun had sufficient capital and also a handful of experience in the catering field. This venture was comparatively very huge with the college canteen.Daily 500 plus people were to be catered at this company canteen. At this stage the experience Varun got helped him much. He hired a team of more than 20 people in different departments of 43 | Page canteen. Today this canteen serves about more than 500 plus employees for their two time meal and also breakfast and snacks. The turnover of this canteen goes to 80lakhs per annum. Which also makes a profit nearby 10% for varun.
His monthly expenses for his labor are around 1.5lakhs.For this venture Varun has appointed a manager Mr. Jaiwant Gaikwad.Though he has a honest and capable team still Varun personally looks after the business with keen interest. During the settlement period of Varun's 2nd venture with company canteen his 1st contract with college was about to end. As day by day the workload at company canteen was increasing he decided to give up with the 1st venture. Thus after a period of long 5 years the contract for college canteen was completed and was not renewed. Thus now Varun got more time to concentrate on his venture with company.It was all going good and some people from Sandip Foundation which is a very well-known institution in Nashik visited the company canteen which was run by Varun. These people rested their for lunch. They were very impressed with the food quality and the services provided by Varun.
Thus Varun was referred when renewal of contract of canteen was happening at Sandip Foundation. Thus with best recommendation Varun got the contract for running the canteen at Sandip Foundation. This was year of 2013.Since 2013 Varun is successfully catering the needs of students, staff and visitors at Sandip Foundation. More than 750 students daily consume their lunch & dinner at his canteen. The turnover of the canteen goes up to 2Cr as mentioned by Varun. A handful profit of 10 to 15 % is made in this venture.For this canteen a team of 55 people work for Varun. The responsibility of managing all the operations and staff is done by Mr. Gajanan Bhamre. At this canteen a large amount of raw material are required. As per details given by Varun, this canteen requires 100kg of Atta daily. 60kg of rice is required daily. All the items are purchased from the well-known wholesalers at Raviwar Karanja area , Nashik.Also 50 kg of vegetables are the requirement of canteen. These fresh vegetables are purchased from the Market yard, Nashik.
In this way today, Varun is successfully running two major canteens in Nashik city.Up downs in the market and number of consumers that is students or employees are the factors that affect the catering business sometimes. Varun mentioned. Now Varun is at sound financial condition so that he can sustain with a 5-6 month credit period for his client payment. Maintaining hygienic ambience, cleanliness, and serving best quality food are the key factors of success of Varuns business. Varun also mentioned that their only try is to provide homemade like food to everyone. Despite having no education related to this field he has done a commendable job in catering field. In near future Varun is planning to open a family restaurant in Nashik city
---
Contact Details
Sandip Foundation
Sandip Institute of Technology & Research Centre
Department of Management Studies