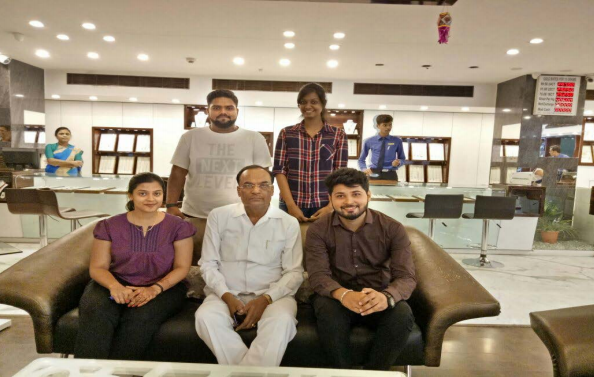 INTRODUCTION:
"To succeed in life, you need to be a passionate dreamer and follow it with dedication" said Mr.Sohanlal Bhandari , Proprietor of Bhandari jewellery galaxy, Pvt. Ltd."
Date of birth- 25-3-1959
Email id- sohanlal.bhandari.5@gmail.com
He completed his education in G.C.E.H (graduate certificate in e-Healthcare) in the year 1982. After his educational life, he came back to Nandurdi village, where his father advice him to practice under his uncle who was a medical practitioner. But, his dreams were different as he wanted to take up his own business ,so he met his friend's father who was an onion merchant and he gained experience for 2 years under the same. He approached the members of Lasalgaon market committee for issuing the licence . Later on, he took financial support from his father and started his own firm in onion business sector. Within 2 years of span he boosted his business and was elected as Commission agent in 1984 from Maharashtra state. Considering his achievements , Market Committee elected him as the Chairman of Association of onion traders
Difficulties he faced while setting up the business:
He was travelling to Pimapalgaon baswant for onion purchasing issues and due to time issues he was driving fast and on highway he meet with major accident on 6th April 1991. He was hospitalized for some further treatment in which he was been told that he has his last 48 hours for his treatment. Case Study Mr. Sohanlal Bhandari
In those 48 hours he started to recover with his willpower and it shows a new opportunity to again take over his business. After a delay of 2 year time span he started his journey towards his healthy business life. After coming back out of such severe pain he boosted himself with greatest responsibility of Chairman of Association of Union Traders in 1993 which gave him an idea of Import and Export. He continued working in this post till today. Simultaneously he diversified himself with not only working in one sector but also he was been selected as on Director post in Pimpalgoan APMC and also he was in the list of nominee for the chairmanship post in Ashokrao Pathsaustha . And by his performance and success he was elected as The Chairman of Ashokrao Pathsaustha.
And for today he is the director of the same branch. In beginning of 2000,he newly started the business of construction works .the name of the firm was Sagar Constructions where he took up the project of commercial complex which was similar to the Mumbai Vyapar Bhavan .Being inspired by the Vyapar Bhavan which was situated in Mumbai, he decided to construct the same in Nashik for development of farmers. The construction was completed by 2003. He was elected as the Director of Lasalgaon APMC in 2001,which shows the successful growth and good reputation in Agricultural sector. He later on expanded his basic onion business by granting the license for import and export which was named as Logistics(rack loading)business. During the year 2008,he initiated a jewellery business in Nashik which developed, making it one of the large scale jewellery businesses in Nashik under the name of Bhandari Jewellery, which was handover to his elder son to be continued as a successor of the business. Current status and business position of Bhandari Jewellery Galaxy Pvt. Ltd. Bhandari Jewellery Galaxy Private Limited is a Private incorporated on 15 April 2011. It is classified as Non-govt Company and is registered at Registrar of Companies, Mumbai. Its authorized share capital is Rs. 30,000,000 and its paid up capital is Rs. 30,000,000.It is involved in Manufacturing N.E.C Bhandari Jewellery Galaxy Private 32 | Page Limited's Annual General Meeting (AGM) was last held on 03 September 2016 and as per records from Ministry of Corporate Affairs (MCA), its balance sheet was last filed on
---
Contact Details
Sandip Foundation
Sandip Institute of Technology & Research Centre
Department of Management Studies