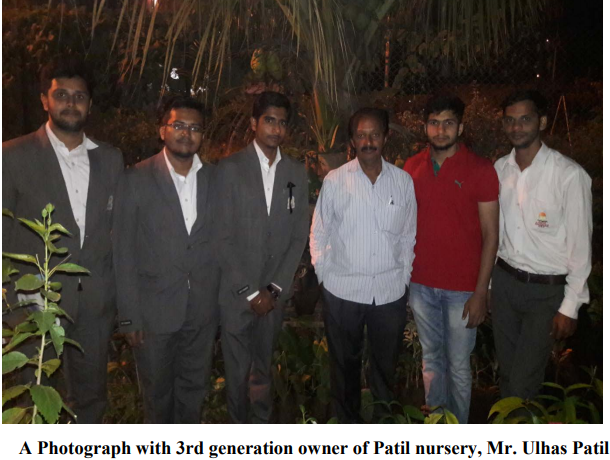 Bhivaji Babaji Patil was born in the year 1900 in a small village named Vihitgaon in Nashik City in a Family of a Farmer. His father was a Police Officer of the village under the British Rule. Mr. Bhivaji received 1 Acres of land from ancestor. He was futuristic from the beginning, as he studied till 4th Std, though staying in a rural area of Vihitgaon, also in a very tender age, he started business of vegetables export and also entered into the business of Gold. This mindset of his was created due to working under a landlord as an accountant, and also accompanying with people who already had business, paving way for a Visionary who changed the way of traditional thinking of farmers towards farming and agriculture.
His ideas and vision has paved way for the Patil Nursery, which was 1st Nursery Nashik City and also paved way for the future generations to look at floriculture and plant grafting as a business prospects.
The Beginning:
As born in Farmer Family, Mr. Bhivaji was already working on inherited farms and had a pretty good Idea of how the land operates with the specific crop. But as he was surrounded by business minded people, his way of thinking towards classical traditional thinking towards farming and he started to look towards different opportunities he can work upon in the field of agriculture. This gave to the rise of expansion of his agriculture business and saw an increment in land he held from 1 acre to 10 acres till the year 1946. This was possible because of the Intelligence he possessed in choosing the crop according to the profitability it can give, based on seasons. Case Study Mr. Bhivaji Babaji Patil (Patil 27 | Page He exported vegetables towards various cities of India including Mumbai, during the British Rule.
Taking Business to the Next Level:
As Mr. Bhivaji became the master of agriculture business, he decided for the expansion and Purchased 50 Acres of Barren Land in the Outskirts of Vihitgaon, which everyone thought as a foolish Idea. But, being a visionary and as the ability of thinking differently developed, Mr. Bhivaji took the risk of purchasing the barren land and leveling the imbalances manually in order to make the land suitable for farming. This risk was worth a reward, as the nac of choosing profitable crop and efforts took by him and his family on the land, the crop they took in the first year recovered all the cost incurred to purchase the barren land. This reward boosted Mr. Bhivaji's confidence and paved way towards the different ways agriculture can be utilized as a profitable business.
Major Shift:
During the period of 1950-1960's Mr. Bhivaji shifted his focus from vegetables to Fruits, and also started to do grafting of the fruit plants, paved way for the start of grafting business in Nashik. He took plantation of Guava, which seemed suitable to the environment of Nashik City. His Guava plantation was recognized very soon, as he started to export guava to Mumbai, Calcutta and many cities in the North India. In the year 1963, Government of India, to promote other forms of Agriculture, invited American Farmers to visit various farms in India, in which Mr. Bhivaji's Farm was selected, and which good very good reviews from the American Farmers. This showed that you don't require a high-tech knowledge to build a profitable business.
Expansion to Floriculture :
As American Farmers visited Mr.Bhiavji's farm, conversation with them inspired him to expand his horizons to floriculture, which was an innovation at a given point and took 28 | Page rose plantation in half of his agricultural land and also started to export Mumbai and Calcutta This led the foundation of Patil Nursery which is at is today.
Addition of Biogas Plant:
As his family expanded, it raised the needs, thus Mr.Bhivaji started rearing of Cattles, which gave him an idea of using the by-products of those cattle's into a profitable business. Thus, Mr. Bhivaji built a biogas plant, which was 2nd in Maharashtra in Late 1950's, which gave rise to the idea of 100% utilization of resources and minimal wastage of the by products created from agriculture and also reduced cost, which helped him to purchase additional 50 acres of land in Bhagur Region, where he took horticulture cultivation
Tourist Attraction:
Turning towards Floriculture also came with a surprise element, as people started to visit Mr. Bhivaji's Farm in Vihitgaon, which instantly became a tourist attraction for people who used to visit Nahsik. School Trips, Shooting of various movies, Regular visits from major government officials and also state ministers for vacation and relaxation, turned Mr. Bhivaji's farm into a tourist attraction, and addition to Mr. Bhivaji;s Current Business.
Emergence of Patil Nursery:
As the Industry was grooming in Nashik City in Ambad and Satpur Area, it leaded to need of ornamental plants to beautify the company premises. This led to the commencement of Patil Nursery, which was 1st nursery in Nashik City. Majority of Companies instantly became customers, as Bhivaji's sense of Ornamental Flowers was unique in his own sense. His Idea Led to emergence of various nurseries,. Thus Mr. Bhivaji gave a working business model on which many entrepreneurs came and started their own enterprise. Research, Innovation and Awards He was not only an Entrepreneur, but also an Innovator and Researcher, where he experimented with grafting of various plants, combination of various plants, which not 29 | Page only turned into a profitable business venture, but also won various awards which are as follows1st prize for mango grafting in all India Fruit Exhibition Prize for Jwari Cultivation from Government of Maharashtra. Social Life Mr.Bhivaji was also very active in Social Life. During war in 1962, he donated his Gold Buttons to support the war soldiers financially. Also, He Provided free water through his canal to the people of Vihitgaon and also to municipal corporation. He also shared his business knowledge with other farmers so that they can grow their farm as well.
---
Contact Details
Sandip Foundation
Sandip Institute of Technology & Research Centre
Department of Management Studies